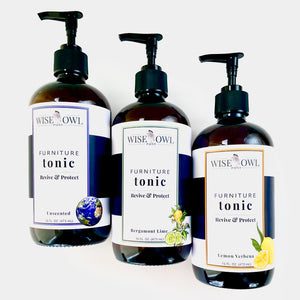 Bright lemon & floral verbena combines in this energizing mixture. With notes of verdant lime, grapefruit & lemon. This scent combines lavender, geranium rose & lemongrass, and undertones of soft woody musk. This furniture tonic is infused with natural essential oils.
With our Furniture Tonic, you can revive, rejuvenate, and protect/seal all in one easy, safe step!
Wise Owl Paints™ all-natural Furniture Tonic is carefully crafted with hemp oil, natural wax, and essential oils, without nasty fillers or solvents. Our Furniture Tonic has endless applications and uses including over raw or stained wood, seal Chalk Synthesis Paint with it, renew leather, polish furniture and all of your stainless-steel appliances (don't forget your kitchen sink!), clear up foggy headlights, and even shine up old vinyl in cars.
To use simply saturate a cloth or pad with the Furniture Tonic and wipe evenly onto the surface. Allow at least 20 minutes to cure and then wipe away excess.
Polish with a clean lint-free cloth.